Corporate News
Validity: 21/08/2018 - 31/08/2018
NEW! Chest-freezers INTER L 500 E and INTER L 350 is already on sale
The brand «INTER» presents at once 2 new products - chest-freezers INTER L 500 E and INTER L 350.
New model INTER L 500 E is an economic and modern chest-freezer for big business. In comparison with usual models "E" - a series consume 45% less energy. Externally in him white color is traditionally used, and internal department is executed in silvery. Net volume - 502 l. Inside 3 metal baskets are established. On a cover established is unprofitable the handle with the display and the lock is built-in.
In the INTER L 500 E model electronic control with the touch panel is established. It allows to manage the current temperature, to change temperature units of measure Celsius / Fahrenheit, displays emergency preventions on the screen, increases profitability at the expense of work process improvement
The chest-freezer INTER L 500 E with the Super Freezing mode allows to freeze quickly and deeply products for long-term storage. In usage time of this mode temperature in the deep freeze goes down to-24 degrees. At the mode included in advance new products will be frozen in due form shock freezing, that is will keep a form, color, taste and the majority of nutrients. It is also equipped with a temperature alarm and has a memory function when the power is turned off. When the power is turned back on, the freezer will operate according to the setting mode before shutting down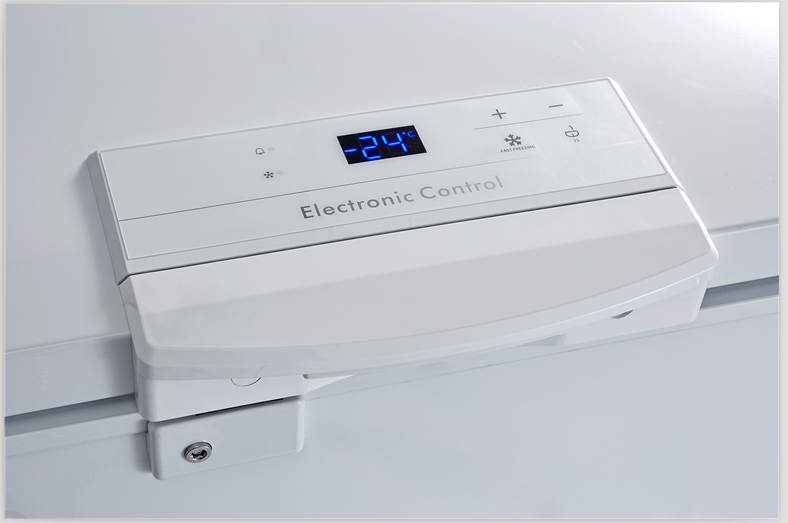 The chest-freezer INTER L 350 has a useful volume of 359 liters. and simplified functional. Inside there are 3 metal baskets. At the front of the housing is an installed control panel with a mechanical regulator for 6 temperature modes and light indicators (Power, Run, Alarm). Above is a blind metal lid with a handle and a lock. Has a convenient adjustable opening angle of 45 to 75%. To move around the floor, the roller is equipped with additional rollers
In the construction of chest-freezers INTER new innovative solutions "SPEED-Freezing" were applied, which significantly increased the cooling efficiency, useful storage area, and also reduced energy consumption.
Сhest-freezers INTER belong to the class of energy consumption of A+. They are adapted for work under operating conditions with unstable tension in network from 198 V to 264 of V, to severe climatic conditions at a temperature from +10 to +43 With and have low noise level. By their production only environmentally friendly materials with lack of harmful substances are used, according to the European directives REACH and RoHS.
INTER applies the highest quality standards that is confirmed with stable work for 20 years, expansion of geography of sales on the territory of Europe and Asia, various diplomas, awards and prizes from exhibitions. Production of INTER has received certificates of quality of the EU of ISO 9001:2008, the international system of certification TÜV Thüringen and Rheinland and also certificates of conformity of TSU (safety requirement of directives of the EU).
Production of the INTER brand has a warranty 2 years.
You can buy the freezers INTER L 500 E та INTER L 350 on the site nord.ua and in the shops of partners. The recommended retail price is 10599 and 8999 UAH respectively.