Credit cart
Choose credit proposal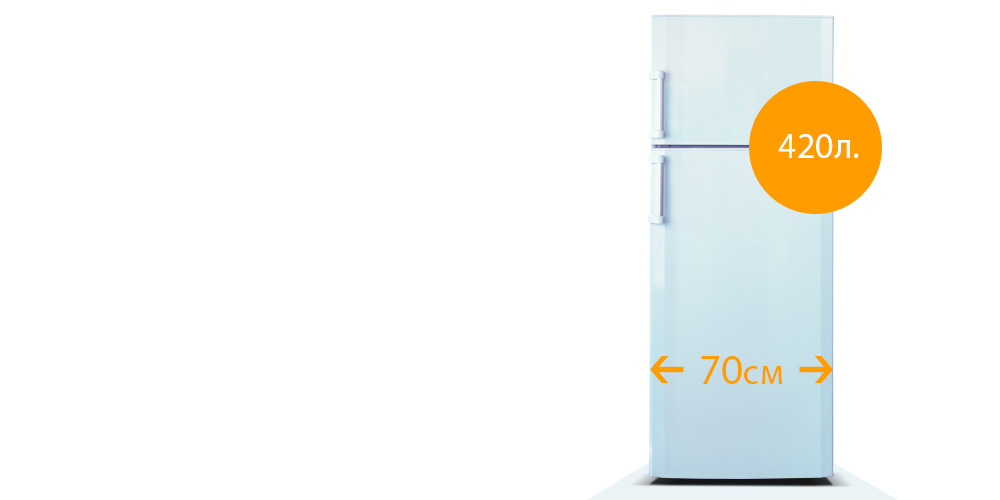 More space, more products for your family!
New refrigerator from «Family line» series with width of 70 cm proposes you impressive volume of 420 liters. You receive 30% more useful volume for storing, which is sufficient for a big family. Everyone will find space to place something tasty in it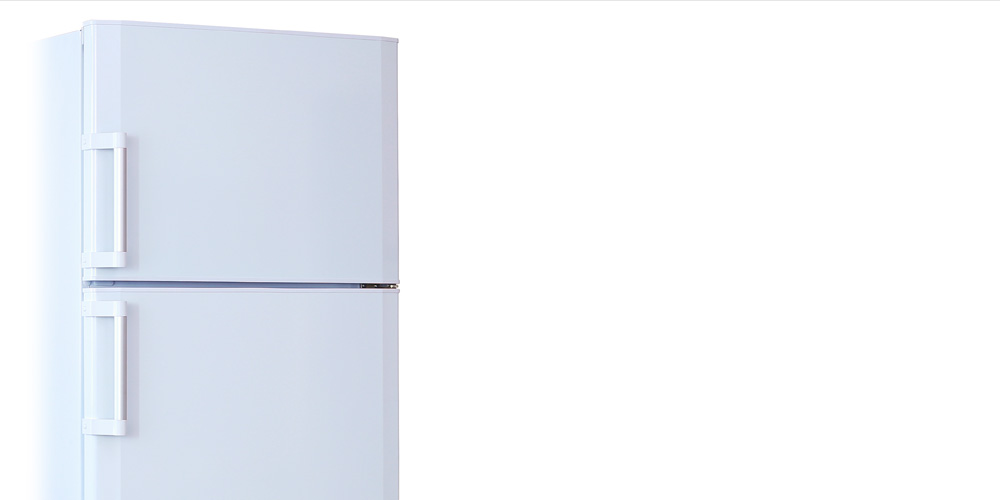 Elegant design
Modern design of refrigerator is emphasized by straight lines on the door, with edges and elegant handles that are efficient in use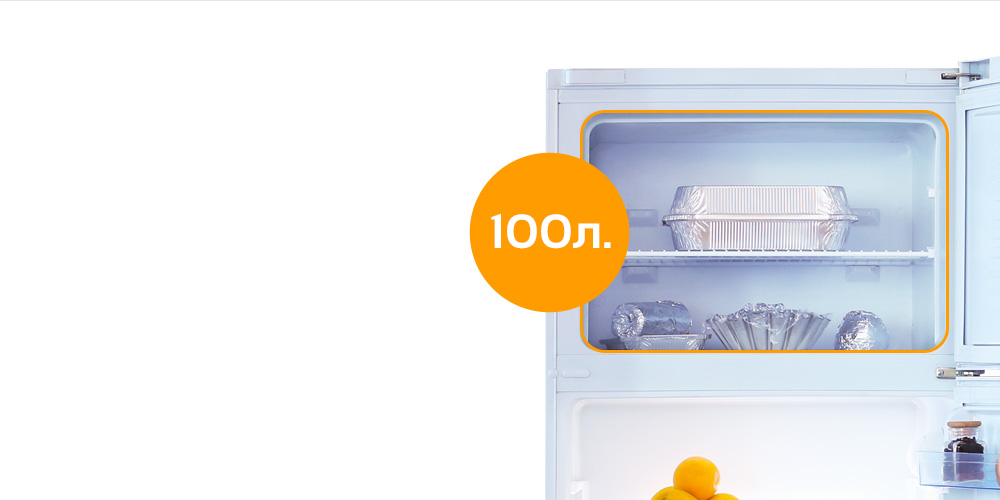 Voluminous freezing chamber
New improved design of freezing chamber allows more effective and fast freezing of the products. Put big turkey, rabbit, fish, vegetables inside and you'll still have place, due to the useful volume of 100 liters this chamber has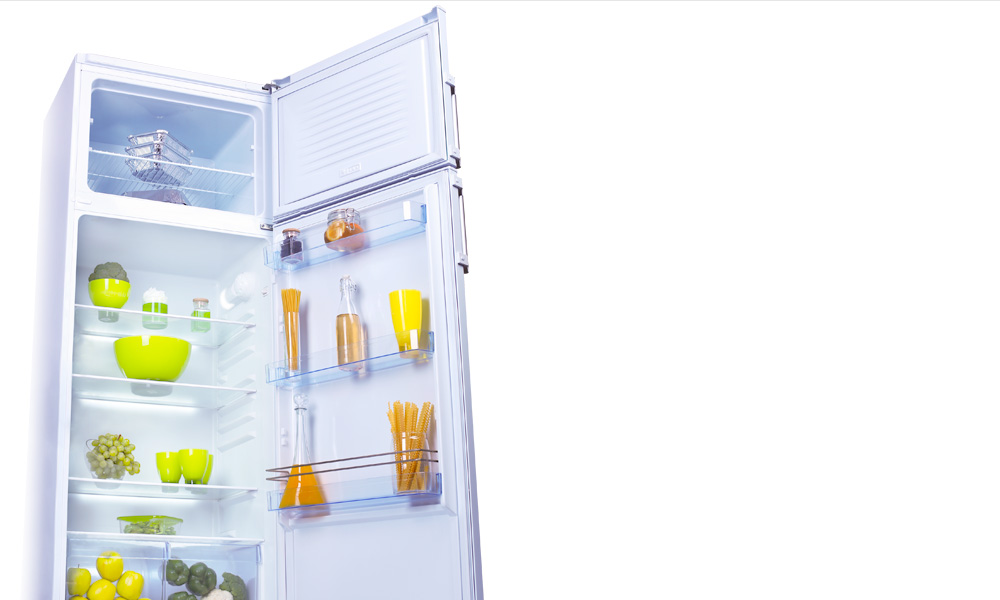 Temptation inside
Specially for this model engineers designed and installed new bright lighting that emphasizes snow-white shining of the refrigerating chamber, which is being produced from the ecologically safe plastic with antibacterial covering. We propose you more space for placing products and dishes due to the enlarged sizes of the shelves up to 57 cm wide and 30 cm long. They are produced out of the durable tempered glass «safetyglass», which ensures reliability during usage under loading and scratch endurance. Usable solution allows localize spilled fluid on the surface of the shelf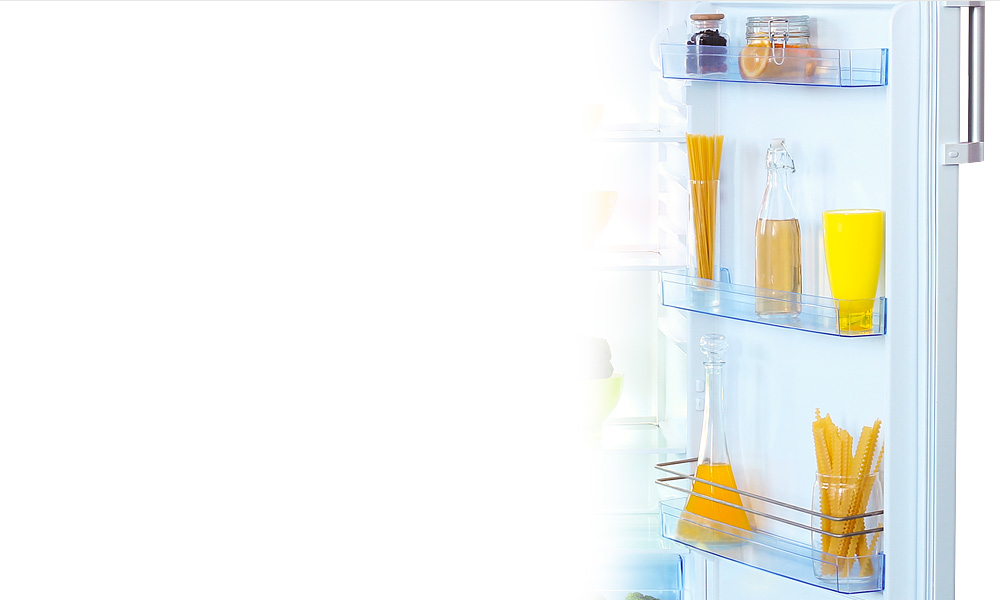 Additional shelves with chrome elements
There are 3 wide balconies on the door designed for your convenience. It is easy to place big bottles and containers on it while chrome stopper on the lower balcony provides additional stability for bigger bottles and packages. You can use 2 removable inserts for storing eggs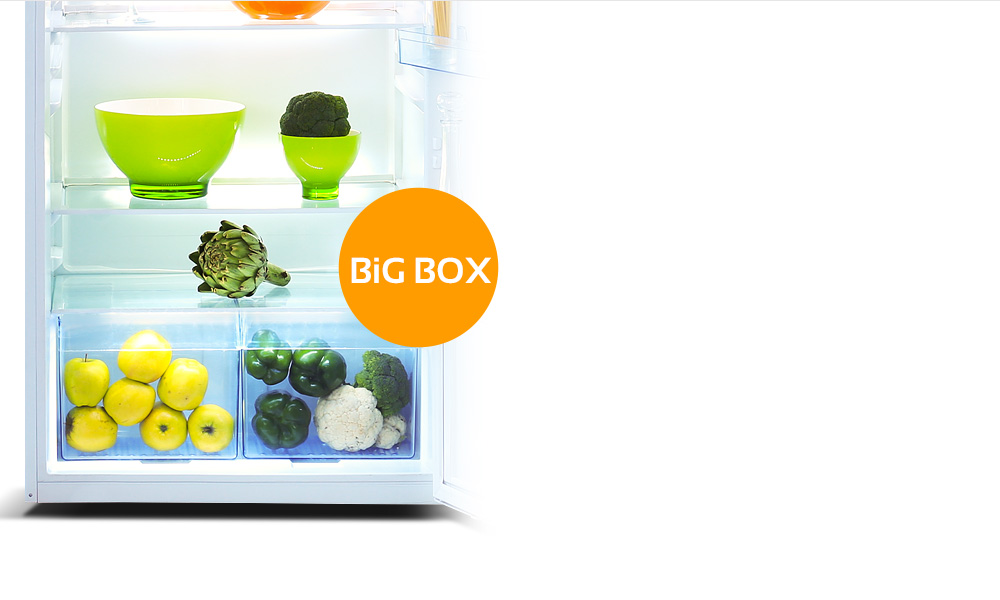 2 «BiGBOX» drawers
Lower part of the refrigerating compartment has 2 «BiGBOX» vegetable drawers. Now it became even bigger and more reliable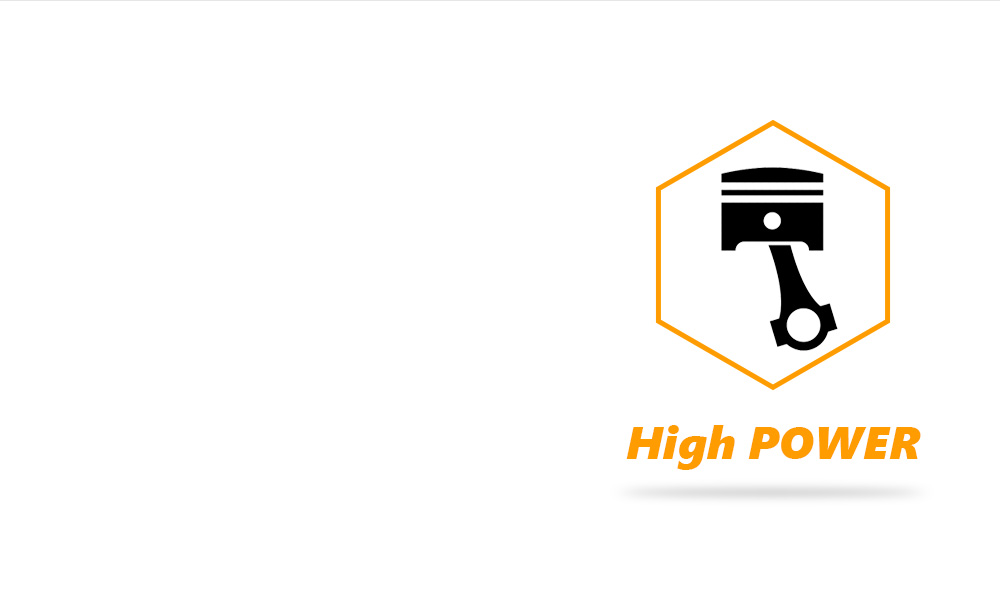 Additional shelves with chrome elements
All models of «Family line» series have powerful compressors SECOP (Austria), which allow to cool big volume of products even on conditions of maximum heat in summer period. Your products will always stay fresh – just set necessary cooling mode by easy turn of convenient thermostat knob
Reduce your energy costs by 20% through energy efficiency class A +
100% quality control of all materials and components used in production. Special life test in our automated test laboratory with test results stored in our quality control database for 20 years
Voltage stability function ensures refrigerator normal operation with unstable mains voltage of 187 V to 253 V and frequent electricity breaks
NORD Company cares for the ozone layer and uses only environmentally friendly materials not containing any harmful substances according to European RoHS and REACH Directives
Main characteristics
Type
Top freezer combi
Total / net volume, L
420/418
Total / net volume refrigerator compartment, L
320/318
Total / net volume freezer compartment, L
100/100
Energy efficiency class
А+
Climate class
N/ST, от + 16 до + 38°С
Operating
mechanical
Voltage stability
+
Color
white
Warranty, м
12
Dimensions and weight
Dimensions (h/w/d), mm
1826/700/665
Dimensions in packing (h/w/d), mm
1964/764/700
Weight, kg
70
Weight in packing, kg
80
Refrigerator compartment
Defrosting
automatic
Type of shelves
tempered glasses
Number of shelves
4
Shelf on a door
3
Box for vegetables, pсs
2, Big box
Support for eggs
2*8
Lighting
+
Freezer
System of freezing
static
Defrosting
manual
Temperature
-18 and below
Number of compartments/shelves, piece
1/1
Ice form
1
Freezing capacity, kg/24 h
4,5
Storing temperature when disconnected to -9 C, h
8
Functions and features
Compressor, qty
1
Electricity consumption, kWh /h
0,873
Noise level, dB
40
Refrigerant/Amount
R600a
Reversible door opening
+
Non-adjustable feet
+
Handles on doors
2, with chrome inserts
Configuration of all products on this website may be changed without prior notification. Products represented on this website may not be available in all retail shops. NORD Corporation is not responsible for the accuracy of prices on this website, as well as for all kinds of errors, if any. Photos of products on this website may differ from the actual products view. CONSUMERS HAVE ALL LEGAL RIGHTS UNDER APPLICABLE NATIONAL LAWS GOVERNING SALES OF CONSUMER GOODS, AND THIS WARRANTY DOES NOT EXCLUDE, LIMIT OR SUSPEND SUCH RIGHTS. NORD
Write a review
Note:

HTML is not translated!
Rating:
Bad
Good
Enter the code in the box below: