Credit cart
Choose credit proposal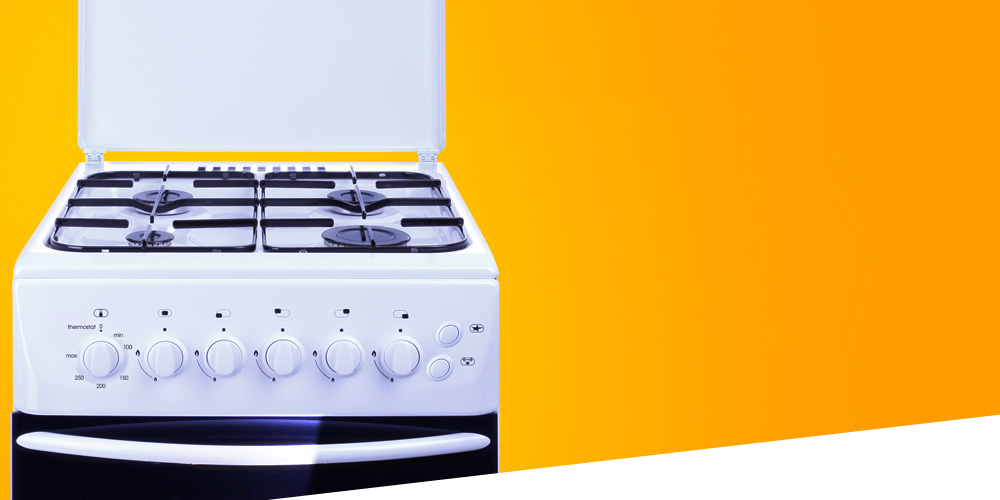 Gas hob
The gas hob has a deep base to contain spillage, and three sizes of gas burners. Installed BAYPAR gas burners are more efficient and reduce the content of harmful gases in combustion products. Separated gas hob pan supports are easy to clean and are made ​​of high-strength steel with matt enamel coating. There is a metal gas hob lid, which protects the wall from splashes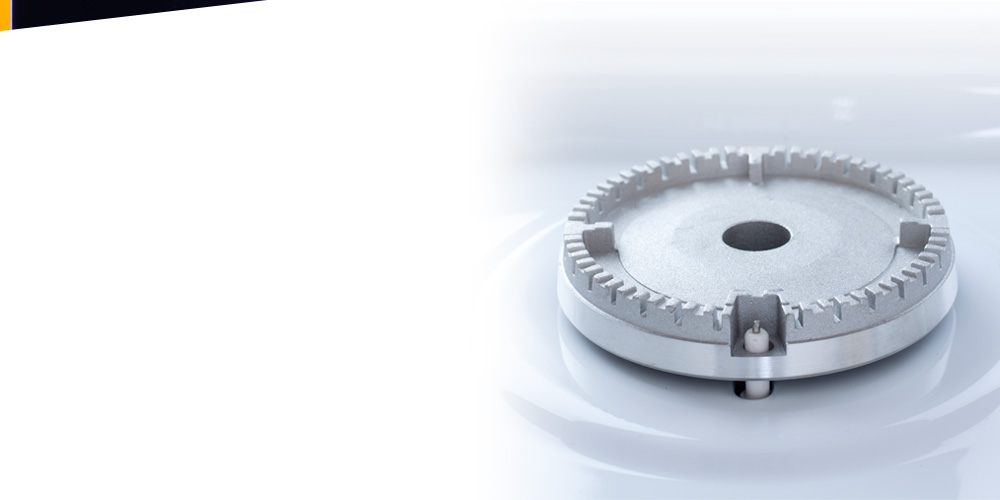 Electric ignition system
The appropriate burner is ignited easily by pressing a special ignition button, thus you save your time required in case of manual ignition with a match or a lighter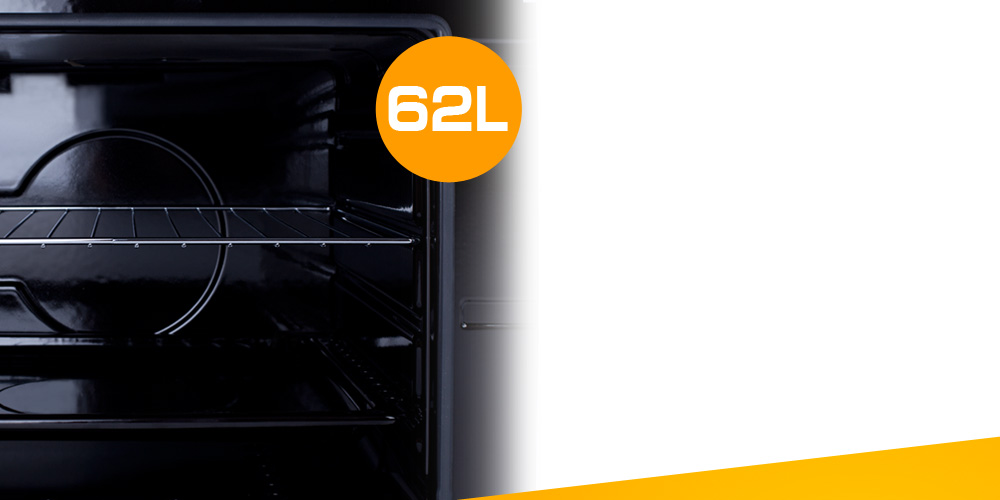 Large oven with lighting
In the large oven with 62 liters of useful volume it is possible to roast a big chicken, duck, goose or turkey. The adjustable steel cooking grid can be installed at five levels. There is an internal oven light in this model to monitor the cooking process through the viewing window without opening the oven door.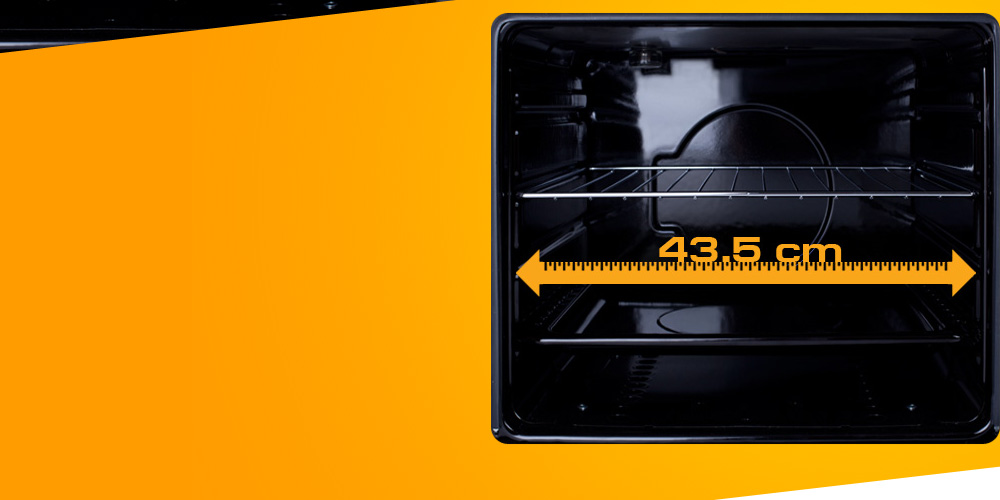 Deep baking tray
You can cook a large variety of dishes with 43.5 cm wide deep baking tray. The tray is enamel coated and can be easily cleaned after use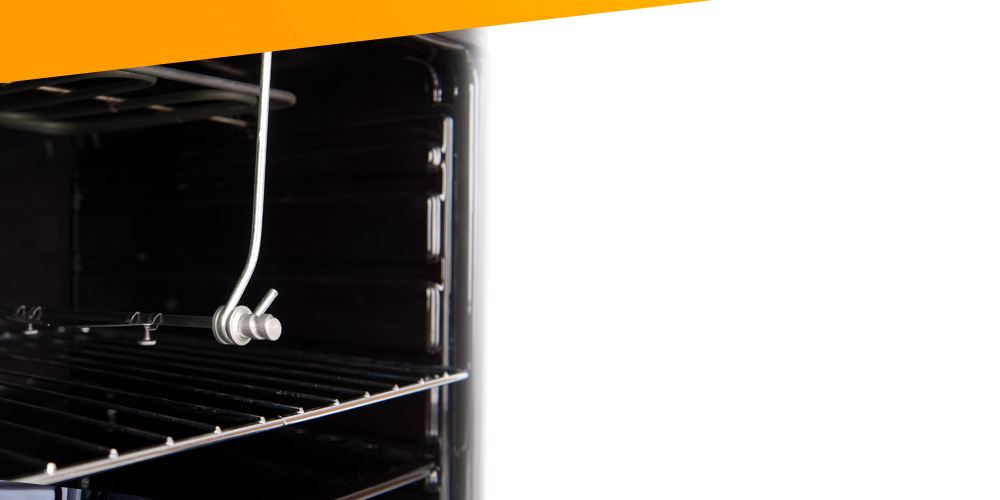 Electric grill with rotating spit
With powerful electric grill you can try various recipes for cooking delicious crispy fried vegetables, meat, and evenly fry large roasts with automatic rotating spit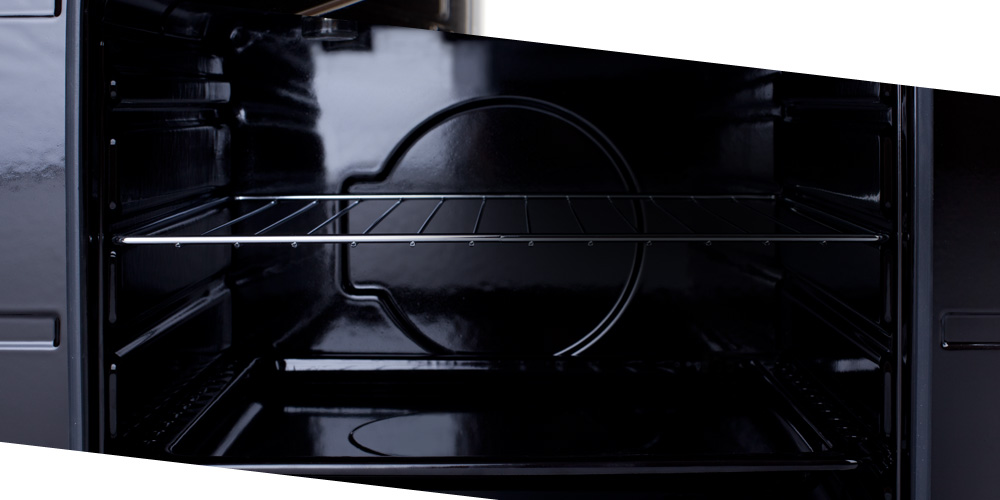 Oven flame supervision device
The gas sensor immediately cuts off gas supply, if the flame blows out or is absent in the oven. In this way the safety is ensured in case of pressure drops in the gas line, or if the flame blows out accidentally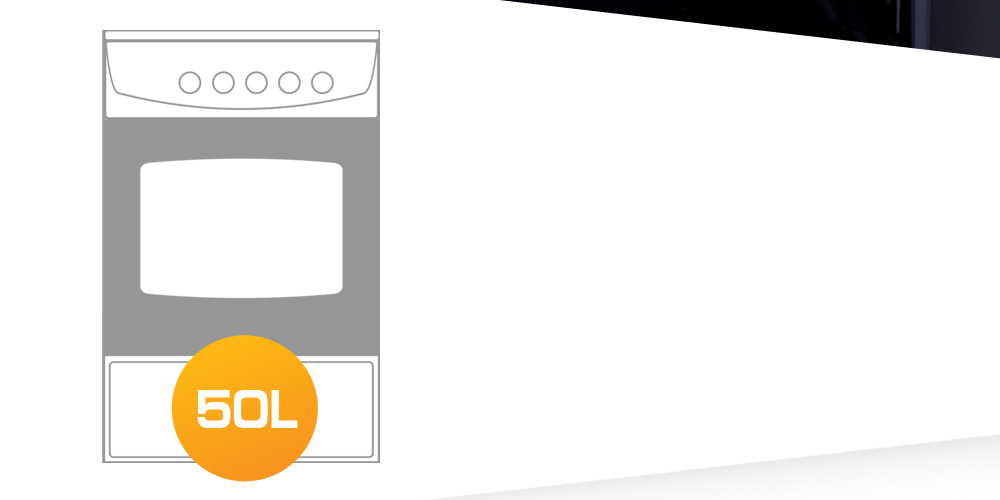 Large storage compartment
In the large storage compartment of 50 l you can store a lot of kitchen utensils freeing up more space in your kitchen or use it to slightly dry something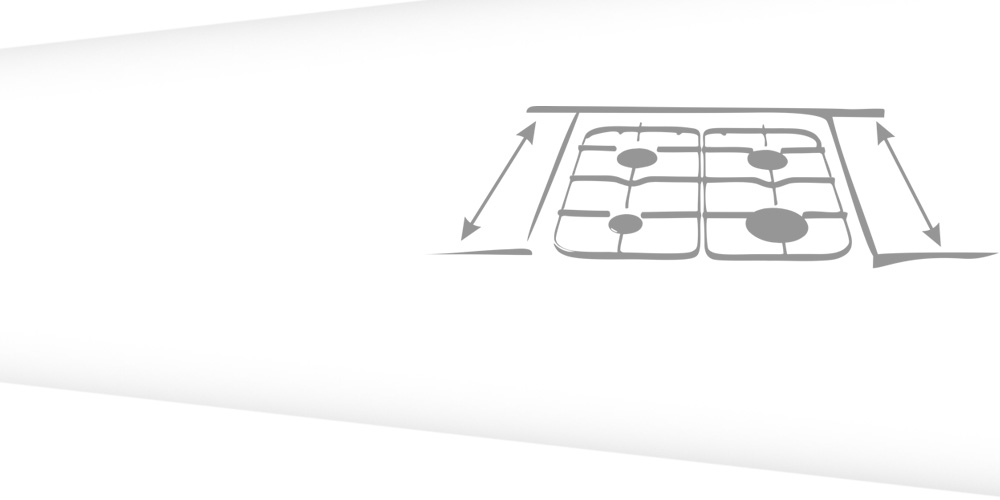 Cost-saving and easy installation
The special design of manifold outlet makes it possible to install the cooker close to the wall without leaving a gap. You can also save costs on aligning it with your kitchen furniture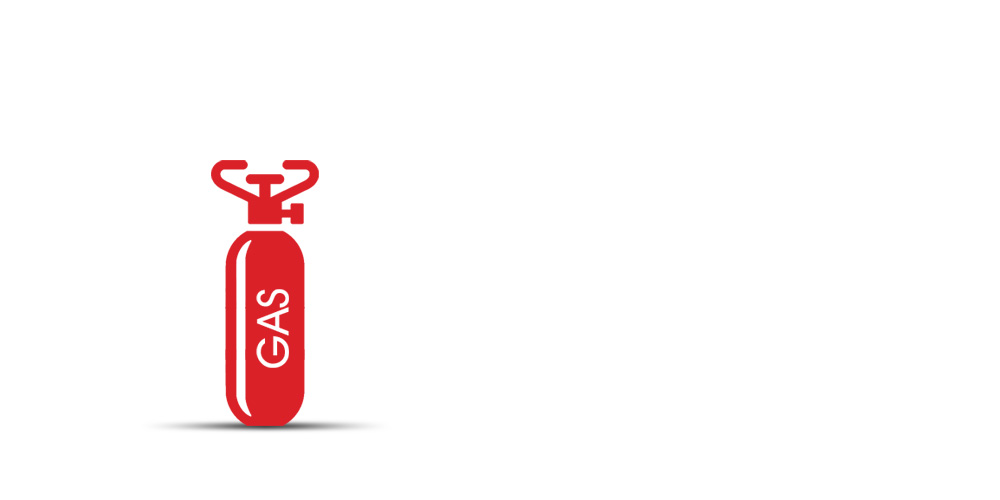 Liquefied gas option (LPG)
Cook with comfort at home or in the country house using liquefied gas! The cooker has a special set of nozzles for liquefied (bottled) gas. Attention! Nozzle replacement can be performed by skilled specialists only
In our cookers production we apply the highest quality standards, as confirmed by European quality certificate ISO 9001, which our company was the first to obtain among the manufacturers from the CIS-countries
Removable door with heat-resistant glass is easy to clean, and double glazed window is not overheated, providing additional safety during operation
Special high-quality enamel coating with improved stability characteristics made in Czech Republic is used in cockers production. Due to its composition, this enamel coating provides smooth surface and facilitates cleaning
NORD Company cares for the ozone layer and uses only environmentally friendly materials not containing any harmful substances according to European RoHS and REACH Directives
Main characteristics
Type
Gas cooker
Lid
metall
Bottom compartment
folding door
Max. power consumption, kWh
1,8
Color
white/grey/brown/black
Dimensions and weight
Dimensions (h/w/d), mm
850/500/600
Dimensions in packing (h/w/d), mm
908/553/688
Weight, kg
36,5
Weight in packing, kg
39
Hob
Surface type
gaz
Gaz burners
4
Forward right, kW (max)
2,65
Forward left, kW (max)
0,75
Back, right, kW(max)
1,7
Back, left, kW(max)
1,7
Electric ignition of gas burners
+
Oven
Oven type
gaz
Oven volume, L
57
Preparation temperature, C
160-270
Safety of gas oven
+
Preparation modes
2 (gas heating, grill)
Electric gril, kWh
1,8
Spit with the handle
+
Lighting
+
Baking tray
1
Grid
1
Grill temperature regulator
+
Indicator of temperature
+
Functions and features
Adjustable feet
+
Comfort and safety
Easy-to-clean enamel
+
Heat-resistant glasses
2
Relief directing
+
Removable door
+
Set snuffled for the liquefied gas
+
Configuration of all products on this website may be changed without prior notification. Products represented on this website may not be available in all retail shops. NORD Corporation is not responsible for the accuracy of prices on this website, as well as for all kinds of errors, if any. Photos of products on this website may differ from the actual products view. CONSUMERS HAVE ALL LEGAL RIGHTS UNDER APPLICABLE NATIONAL LAWS GOVERNING SALES OF CONSUMER GOODS, AND THIS WARRANTY DOES NOT EXCLUDE, LIMIT OR SUSPEND SUCH RIGHTS. NORD
Write a review
Note:

HTML is not translated!
Rating:
Bad
Good
Enter the code in the box below:
Downloads (1)
Manual NORD ПГ4 108-115 208-215 (2.3MB)